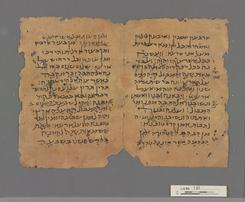 Cambridge Digital Library Targum Manuscripts - This database contains multiple Targum fragments from Targum Onqelos and Targum Jonathan.
Targum Neofiti is the largest of the Western Targumim on the Torah, or Palestinian Targumim. It consists of 450 folios covering all books of the Torah, with only a few damaged verses. This is a manuscript of Targum Neofiti from the early 16th century.
Jerusalem Targum on the Pentateuch is an unvocalized, 16th century manuscript written in Jewish Babylonian Aramaic. It is available from the British Library here.